Stage Cementing Collar Hydraulic Type (Two Stage)
Stage Cementing Collar Hydraulic Type (Two Stage)
Stage Cementing Collar Hydraulic Type (two stage)
Hydraulic Stage Cementing Collar is a field-proven stage tool that meets the challenges of cementing holes at any angle with a hydraulically opened port system. It is specifically designed for horizontal sections / formations, the multistage cementing tool can be placed anywhere in the casing string. It is PDC-drillable and field-adjustable shear pins system.
When the first-stage shutoff plug lands on the shutoff baffle, increased internal casing pressure hydraulically opens the stage tool, enabling circulation and then second-stage cement to pass though the ports into the annulus above the tool. The closing plug when released, wipes the casing ID clean of cement before bumping on a closing seat. Increased pressure shifts the closing seat downward, releasing locking lugs and closing the tool. A snap ring locks the sleeve in position, ensuring the stage tool remains locked.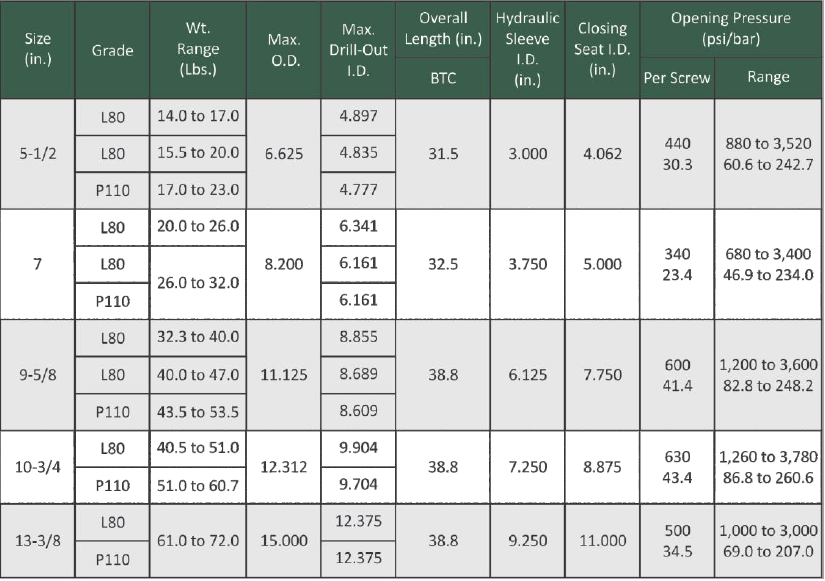 Stage Cementing Collar Mechanical Type (two stage)
Stage Cementing Collar is used to effectively cement upper sections of the casing string after displacing cement around the lower section. The Multiple Stage Cementing Collar provides a means of opening and closing port holes for cement displacement and positive containment of the cement after displacement. All internal parts are easily drilled, and are firmly held from rotating during drilling. The port closing sleeve is positively locked in position after cementing. After running the Collar to setting depth, the lower section is cemented in the conventional manner except the cement is displaced with the flexible cementing plug furnished with the collar. This is bumped against the shutoff Baffle. A slight pressure build-up of 300-400 P.S.I. will assure plug is seated in Baffle.
The port holes in the Multiple Stage Cementing Collar are opened for doing the second stage by dropping the trip bomb and applying approximately 800-1000 P.S.I. pressure. The second stage is displaced with the closing plug which is also furnished with the Tool. When the closing plug bumps approximately 800-1000 P.S.I. pressure will close the port holes.